About the collection
---
1869
---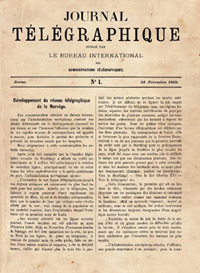 First issue of the Journal télégraphique, 25 November 1869
The 1868 International Telegraph Conference, held in Vienna, decided to establish a permanent ITU secretariat, or Bureau, in Bern, Switzerland. Among the six tasks assigned to the Bureau was the publication of "a telegraph journal in the French language." The monthly publication would include news sent in by the membership, as well as articles prepared by the Bureau itself.

The first issue of the Journal télégraphique was sent, free of charge, to member administrations on 25 November 1869.

The publication – although very modest in size (8 pages for the first issue) -- met a real need. In its first year it attracted 800 subscriptions, at an annual charge of four Swiss francs, plus postage.
The inaugural issue of the Journal led with a report from Norway on the extension of its network to isolated Arctic villages that depended on fishing. Telegraphy provided them with timely information on the appearance of herring shoals and led to a tripling of the catch. The second issue reported responses to an enquiry by the ITU Bureau about the numbers of women employed in telegraph offices. It revealed that only five administrations allowed women to enter all aspects of the work, while most countries did not have any female employees.
---
About the collection
1870-1900