About the collection
---
1961 - 1962
---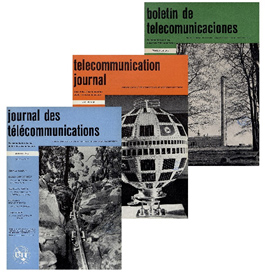 1961-1962: the Journal is published in 3 separate language editions and takes on a colored cover with pictures
Beginning with the issue of January 1961, the Telecommunication Journal was completely remodeled, modernized and improved. A new layout was adopted, and the standard blue and pale yellow covers were replaced by beautiful colored covers with images.
In 1962, the old trilingual format was replaced by three separate English, French and Spanish editions.
The changes resulted in a substantial increase in circulation.

---
1953
1960s to 1980s